Careers
Pathways Family Services provides equal employment opportunities to all employees and applicants without regard to race, color, language, socioeconomic status, spiritual belief, gender, sexual orientation, national origin, age, disability, or genetics. This includes recruiting, hiring, placement, promotion, termination, layoff, leaves of absence, compensation, and training.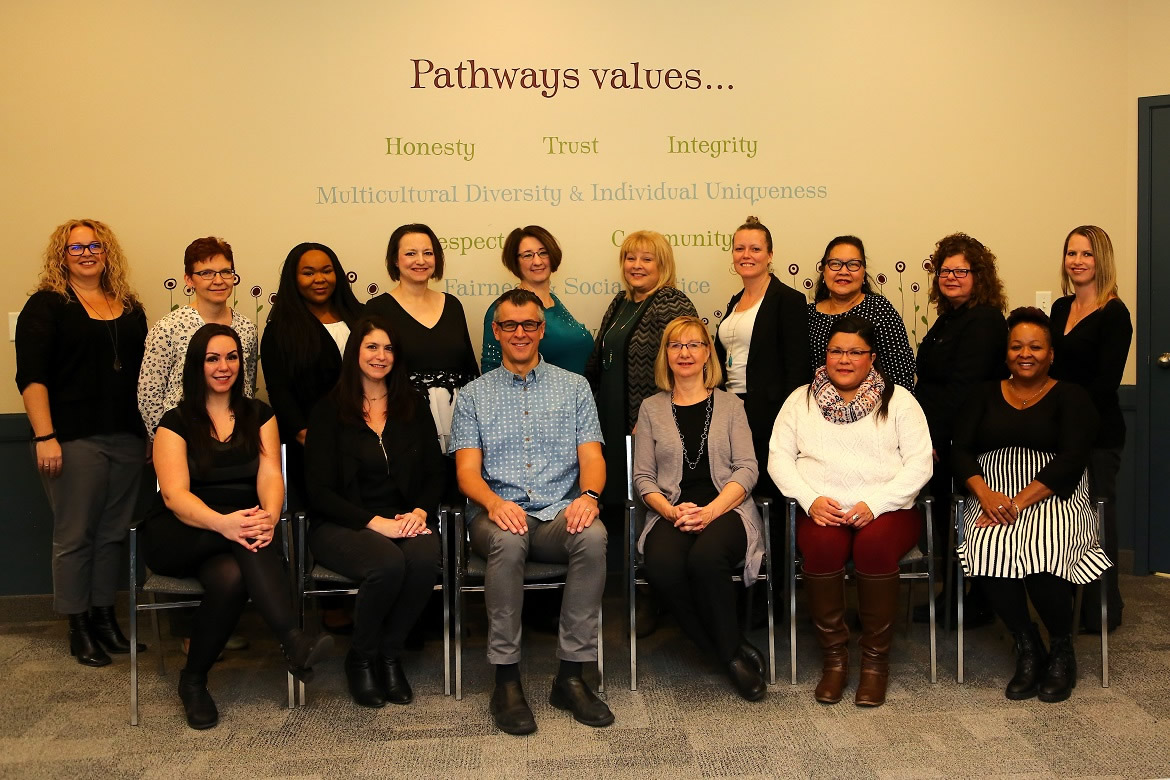 Our Culture
When you join the Pathways team you join our Pathways Family.
We value: Honesty, Trust, Integrity, Multicultural Diversity & Individual Uniqueness, Respect, Community, Fairness, Social Justice & Teamwork.
Our Benefits
Pathways Employees are eligible for a competitive and comprehensive benefit package.
Pathways Contractors receive competitive rates with access to Agency resources and supervision with trained professionals.
Current Openings
The Foster Care Support Worker is responsible for support services to children, youth and foster families in order to promote safety, stability, well-being and family belonging. Services include support to caregivers, intake matching, collaborative service planning, resource connection, parenting and behavior management strategies, training, and recruitment. The FCSW is a liaison to the broader service team and community stakeholders.
Successful applicant is required to have a vehicle and able to drive in Edmonton and surrounding areas during all seasons. Current Intervention Record Check and Security Clearance (w/ Vulnerable Sector) required. Applicants are sincerely thanked in advance for their interest. Salary and benefits to be discussed during interview. Only those selected for an interview will be contacted and references requested. Competition closes when suitable candidate is found.
LOCATION: EDMONTON
QUALIFICATIONS: Minimum diploma or undergraduate degree in a Human Services field, RSW preferred. A minimum of two (2) years' experience working in a human services field. Sensitive to and able to demonstrate knowledge of trauma informed practices and child development. Ability to work with all cultural, spiritual, and racial backgrounds. Demonstrated good standing with professional association.
Forward resumes to general@pathwaysfamilyservices.com or fax to (780) 488-2603.
The Home Study Practitioner is responsible for the completion of a Structured Analysis Family Evaluation (SAFE) or whichever Home Study model is sanctioned by Children Services. The Home Study Report contains the following activities: review of documentation, conducting interviews with applicants and collateral contacts, evaluate/assess information, mitigation meeting, author and edit the report, and timely submission of required documentation.
The Home Study Program is actively accepting resumes from skilled practitioners who are SAFE trained Prospective candidates will be contacted when the next competition opens.
Successful applicant is required to have access to a vehicle and ability to travel within home Children Services Region and surrounding area up to 200 km. Current Intervention Record Check and Security Clearance (w/ Vulnerable Sector) required.
LOCATION: All Regions in Alberta
QUALIFICATIONS: Degree/Diploma in Social Work with a minimum of five (5) years direct experience in a Human Service field. Preference given to SAFE trained individuals with a Bachelor's degree. Experience in conducting interviews for the purpose of evaluation/assessment. Registration in good standing with the Alberta College of Social Workers or with a respective governing body under the Health Professions Act. Professional insurance with a $2,000,000 liability including Errors and Omissions and personal WCB coverage.
Forward resumes to hap@pfshsp.com or fax to (780) 488-2603.